Concrete Driveway Repair & Leveling in Northwest Ohio
Do you have a sinking, uneven, or cracked concrete driveway? FoamWorks Concrete Leveling offers quick and effective driveway repairs. Rather than tearing out and replacing concrete, our systems are simple, lasting, and durable, restoring and protecting existing slabs. This includes cracked concrete repairs, concrete sealing, concrete caulking, and concrete leveling.
If you have an uneven driveway that needs to be repaired, contact us today. We offer free estimates for concrete leveling, cracked concrete repair, concrete caulking, and concrete sealing in Toledo, Findlay, Perrysburg, and nearby.
---
What causes concrete sinking, cracked driveways?
Erosion is a common cause of sunken, cracked concrete. Erosion washes away soil from under your driveway, creating a void or space under the concrete slab. Your driveway can begin to sink in areas where the soil has been washed out. Clogged gutters, downspouts that are not installed correctly, and poor yard drainage can make erosion worse. A heavy load, such as an RV that's kept in your driveway, can cause sections of the driveway to sink and crack over time. If you have a newer home with a sinking driveway, it could be because the ground around the house is settling or the base of the driveway was not compacted properly. A sinking driveway near your garage can lead to foundation cracks and expensive damage over time.
---
Before and after: Driveway leveling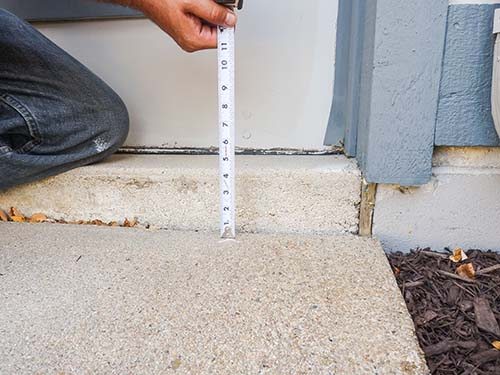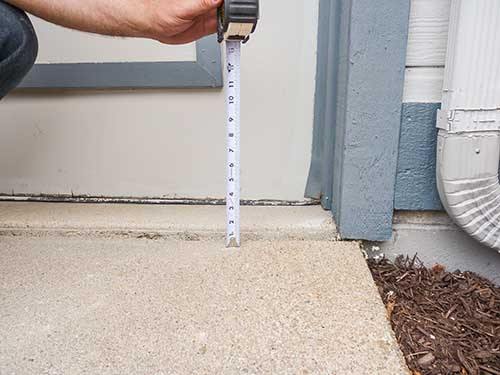 This concrete driveway had sunk about two inches in front of the garage. Using PolyLevel®, we were able to raise the concrete, making the driveway level with the garage entrance. No more ugly sunken driveway!
---
We can raise & repair sinking, cracked driveways
While surface problems can likely be patched, this won't fix the underlying settlement problem and more cracks can form in your driveway. Although do-it-yourself repairs might be less expensive, they can be messy, require special tools and equipment, and it can be as long as 30 days before you're able to use your driveway again.
No matter what's causing your driveway to sink, we can fix the problem fast and prevent further sinking with our concrete repair services:
Concrete leveling: PolyLevel® concrete leveling is a fast, effective solution for sunken concrete driveways. First, we drill small holes in the slab and inject high-density polyurethane. The polymer spreads beneath the slab and lifts it up. Holes are then patched and the cracks are filled. You'll be able to use your driveway within one day.
Cracked concrete repair: NexusPro® is an incredibly durable concrete sealant that repairs cracked slabs and damaged joints all year round. It is highly resistant to moisture, UV rays, bubbling, and other damage. It also cures in under an hour, compared to other common urethane-based products that can take up to 24 to 72 hours.
Concrete sealing: After your concrete repairs, extend slabs' lifespans by 3 to 5 times overall with SealantPro™. This permanent concrete sealing system provides protection against moisture, chemicals, debris, UV rays, and so much more.
Schedule a free driveway repair estimate today!
Contact the experts at FoamWorks Concrete Leveling today to request your free driveway repair and leveling estimate. We offer reliable concrete crack repair, concrete lifting, concrete sealing, and concrete caulking services in Toledo, Findlay, Perrysburg, Lima, Bowling Green, Oregon, Sylvania, Tiffin, Defiance, Fremont, and nearby.
Looking for a price? Get a no cost, no obligation free estimate.